Some tips on buying microcaps
This article appeared in the October 2014 ASX Investor Update email newsletter. To subscribe to this newsletter please register with the MyASX section or visit the About MyASX page for past editions and more details.
Six growth stocks that are on Dale's radar.

By Dale Gillham, Wealth Within
Readers may recall my article last year on the Australian Microcap Investment Conference in Melbourne, which this year is on October 21-22. My analysis last year of six stocks to be highlighted at the conference was completed in the first week of August and an investment in them would have returned around 38 per cent a year later.
Before I name my preferred stocks this year, let's look at what micro-caps are. They can be found in the S&P Emerging Companies Index. In simple terms these stocks are selected for the index if they are ranked between number 350 and 600, in order of market capitalisation, with daily trading of $200,000. Both criteria are calculated over a six-month average.
(Editor's note: Eureka Report's Alan Kohler considers the role of micro-cap and small-cap stocks in Self-Managed Superannuation Funds, in this ASX Investment video).
The selection criteria are a little more complex, but I think you will get the idea that these stocks are very low on the totem pole, compared to better-known large stocks.
To find constituents of the Emerging Companies Index, along with a chart of the performance of the sector overall, visit the S&P Dow Jones Indices website; the ticker code is SPAXEC. You will find the total return for the index has been 2.50 per cent, -8.59 per cent and -3.08 per cent over one, three and five years. This is poor compared to the All Ordinaries Index, which returned 3.24, 10.83 and 2.70 per cent over the same periods.
Why people buy micro-cap stocks
People often buy micro-cap shares in the hope of becoming instant millionaires. They wrongly perceive them as being cheap as many trade in cents. However, whether a stock is cheap cannot be determined by the share price alone, but only by comparing the real value of the stock against the number of shares issued.
For example, a company valued at $1 million, with one million shares on issue, means each share is worth $1. If the current share price is $2 it is expensive to buy, whereas if the price is 50 cents it is cheap compared to its real value.
A benefit of a micro-cap stock is that its price can move very fast and make you money quickly, as shown with last year's highlighted stocks gaining 38 per cent to date. However, only three of the six have made positive returns, even though all traded at higher levels after my analysis.
This ability to move fast is also one of the risks in micro-caps and makes them much more hit and miss. Therefore, you need to know a lot more about what you are buying into than you would when buying BHP Billiton.
You also need to be aware of the share liquidity risk. There is dramatically less trading in these shares and you need to be aware that just because you can buy a share does not mean you can sell it at a price you might want, when you want.
Who micro-caps suit
Micro-caps do not suit everyone; especially given many do not pay dividends, and remember that past performance is no guarantee of what a stock will do in the future. They are more suitable for investors with a high tolerance for risk and in the growth stages of their portfolio.
Trading them should be avoided unless you are a very experienced trader. Many investors who have asked me to teach them to trade have tried trading micro-caps and been bitten. That said, they can be fun and very profitable if you pick the right company. I enjoy watching them grow and expand over time, and there are many examples of good companies today that were once micro-caps.
I suggest your collective holding in these stocks should not more than 10 per cent of your total portfolio and preferably less. Before buying a micro-cap I recommend you:
Ensure they have revenue coming in from sales, and preferably are profitable
Ensure they do not have a high level of debt.
Look at a monthly chart to ensure they are rising in price.
Here are six micro-cap stocks that I follow:
(Editor's note: Do not read the following ideas as stock recommendations. Do further research of your own or talk to a licensed financial adviser before acting on themes in this article. Microcap stocks typically do not suit conservative investors who are risk averse).
1. AMA Group
The company is focused on the wholesale vehicle aftercare and accessories market, including smash repairers. It is a good example of what I said above. AMA is a micro-cap generating good revenue from a solid business model in a mature market, it is profitable, and recently paid a dividend of 1.6 cents per share.
Technical analysis of the monthly chart below shows what I really like to see for any stock, not just micro-caps. Trading volume has generally been rising since mid-2012 and AMA is trading above a trend line (blue line). Since 2013 AMA has unfolded in a nice consolidation pattern (black lines) and price has retraced by less than 50 per cent (suggesting strength) of the previous rise (from a 17 cents low) and is close to breaking upwards.
If it closes above the top black line for the month, I suggest a target of 55-70 cents.
AMA Group Limited
 2006 to 2014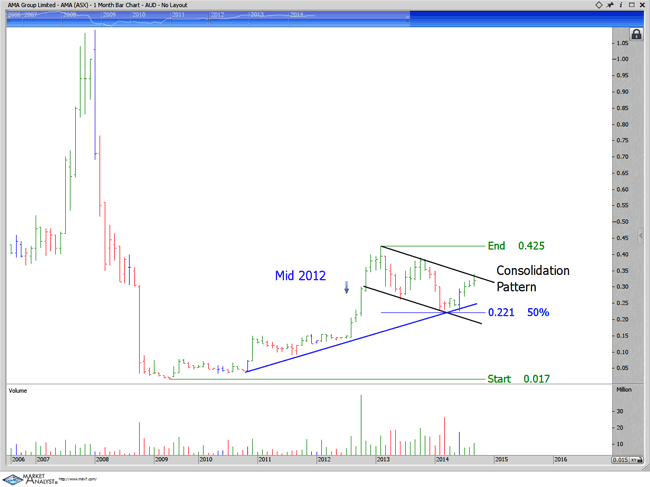 2. Atlas Pearls and Perfumes
As its name suggests, Atlas is involved in pearl farming and perfume manufacture. Revenue in the past financial year increased by 56 per cent and underlying earnings were positive at $3.4 million, compared to a loss the previous year. Atlas fits my criteria, and on a technical note price has risen from 3 cents to 14 cents since May 2013.
The monthly chart below shows that currently it is falling away. But if it stays above 9 cents and starts to rise, it could move back above 14 cents and higher. Observe the resistance at around 13 cents and if it does rise, watch it carefully at that level.
Atlas Pearls and Perfumes
2009 to 2014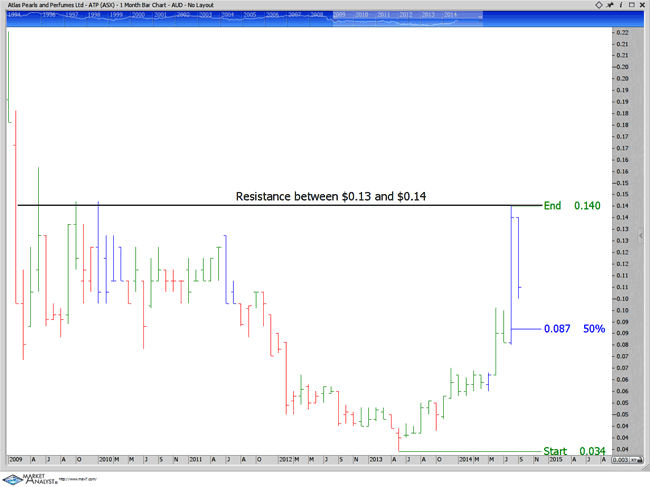 3. Diversa
The company is involved in financial services, mainly superannuation and investment management. I have included Diversa because, like AMA, it is also in a market that is mature. More importantly for Diversa, it is in superannuation and has recently acquired 100 per cent of Trust Company, a superannuation trustee. Further, in early September, Citigroup became a substantial shareholder.
So while Diversa failed to make a profit last year, it is making good revenues and I believe that being in a growth industry the share price is likely to appreciate in coming years.
On a technical note it has spent almost the past 18 months moving sideways, but is holding above the 50 per cent retracement level and volume has increased, which are good signs. A break above 4 cents would signal the potential for higher prices.
Diversa Limited
2011 to 2014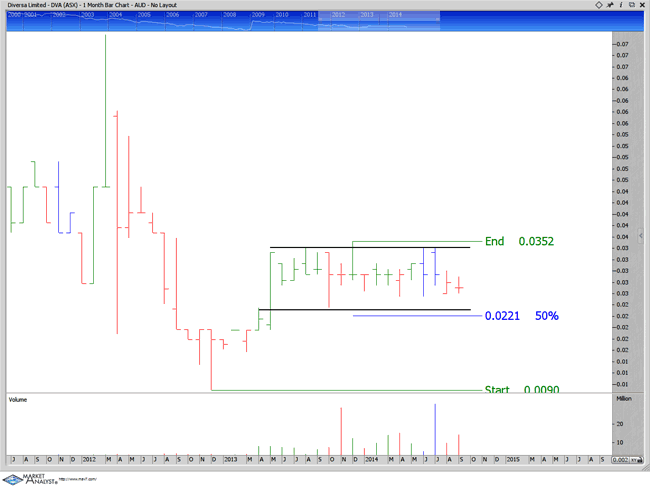 4. Nearmap
This geospatial map technology business announced its maiden profit this year and a revenue increase of 62 per cent, meaning it fits all my rules.
Looking at Nearmap technically, the chart supports the good results, as price more than doubled in 2013 before consolidating (blue lines) over the past year. Like AMA and Diversa, the chart indicates strength as price stopped above the 50 per cent level. Waiting for a close above the blue trend line would signal a continuation of the uptrend and the potential for new highs.
Nearmap
2006 to 2014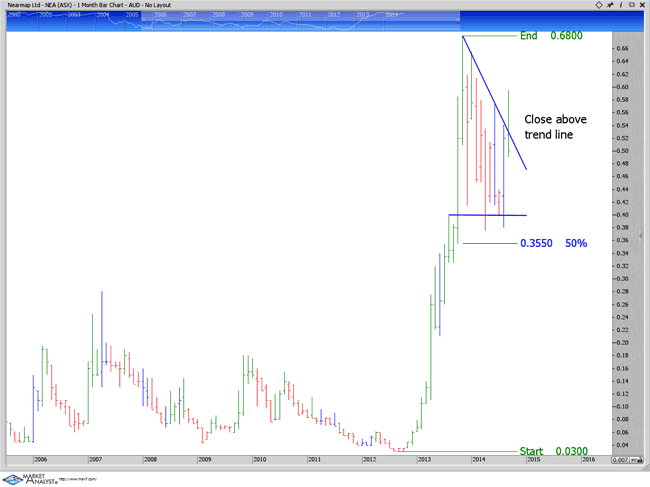 5. Quickstep Holdings
Quickstep manufactures carbon-fibre composite components for aerospace and defence. Although it made a loss in the current year, sales were up 368 per cent and the chairman announced the company anticipated further significant growth in the coming year. Aerospace is about having lighter planes that use less fuel, and carbon-fibre is used to achieve this.
Given that Quickstep also works with defence, in the current volatile global environment, I see good growth ahead. Technically, the stock confirmed a triple bottom at around 12 cents, which is a bullish sign. It also fluctuates between the bottom and around 25 cents, which represents resistance to a rise. A monthly close above the trend line (blue line) could see Quickstep get back up to 25 cents and possibly beyond.
Quickstep Holdings
2005 to 2014
6. Regeneus
This biotechnology company's principal activities are in regenerative medicine. It does not meet my first criteria, given it is operating at a loss, but I still believe it is one to watch.
Regenus has only been listed on ASX for the past 12 months and technically shows promise. The weekly chart below shows it has a confirmed double bottom (black line) at 24 cents, and appears to be about to push through a downtrend line (blue line). A monthly close above the trend line and 33 cents would indicate a further rise ahead, with resistance around 40 cents.
Regeneus
2013 to 2014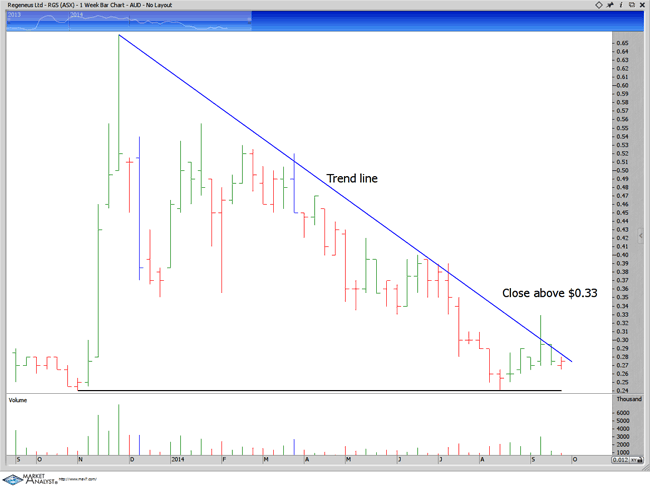 About the author
Dale Gillham is author of How to Beat the Managed Funds by 20%, and is Director/Chief Analyst of Wealth Within.
From ASX
ASX online courses cover shares, interest-rate securities, warrants and instalments, exchange-traded funds, options and futures. The shares course has 11 modules, each taking 10 to 15 minutes to complete. Topics covered include: What is a share? How to invest; Risk and benefits of shares; What to consider in an investment; and How to buy and sell shares. Simple summaries and quizzes in each module make learning fast, easy and enjoyable.
<!IoRedDot_txt_disclaimer>The views, opinions or recommendations of the author in this article are solely those of the author and do not in any way reflect the views, opinions, recommendations, of ASX Limited ABN 98 008 624 691 and its related bodies corporate ("ASX"). ASX makes no representation or warranty with respect to the accuracy, completeness or currency of the content. The content is for educational purposes only and does not constitute financial advice. Independent advice should be obtained from an Australian financial services licensee before making investment decisions. To the extent permitted by law, ASX excludes all liability for any loss or damage arising in any way including by way of negligence.

© Copyright 2017 ASX Limited ABN 98 008 624 691. All rights reserved 2017.