The case to buy offshore stocks
This article appeared in the October 2014 ASX Investor Update email newsletter. To subscribe to this newsletter please register with the MyASX section or visit the About MyASX page for past editions and more details.
Three reasons to increase exposure to international shares.

By Monik Kotecha, Insync Fund Managers
Australian investors, particularly self-managed super fund (SMSF) trustees, who remain significantly under-exposed to global stocks, may be missing out on better value and growth opportunities not readily available on ASX.
As we see the transition of Australia away from manufacturing and a greater reliance on commodities, with their inherent volatility, the outlook for the local economy gets more difficult to forecast. We have recently seen commodity prices adjust as the mining boom slows and we are waiting on other sectors, such as infrastructure, housing and construction, to pick up the pace. And there are still quite low levels of investment by Australian businesses as they remain very cautious.
(Editor's note: Insync Fund Managers is a foundation member in the new ASX mFund Settlement Service. mFunds are unlisted managed funds you can invest in through the mFund Settlement Service. Learn more about diversifying your investment across other high-yielding strategies at the upcoming 'Unlocking the value of diversification' seminars, being held nationally by ASX in October. Register for the seminars now. Insync is presenting.)
Strong case for diversification
The Australian sharemarket is highly concentrated, dominated by financials and resources - approaching 60 per cent of the ASX 300 in these two sectors alone. Resources and banks are essentially cyclical in nature, being capital-intensive businesses. They do well in a strong economy but are vulnerable in a downturn.
International investing can be a smart way to diversify a portfolio and potentially increase investment returns. With Australian stocks only representing about 2 per cent of the world's equity market capitalisation, investors are missing out on the chance to participate in some of the most dynamic investment opportunities.
Opportunities in international markets are available in areas such as global pharmaceuticals (diabetes is one of the fastest-growing diseases); global technology; global consumer brands (Nike, Apple, Nestle, Nurofen, Dettol, for example); the rapidly growing middle-class in emerging countries; and specialist manufacturing sectors (Schindler lifts, Rolls-Royce aero engines).
What is often missed when investing internationally is that many of these industry-leading companies have been growing their dividends consistently over decades and buying back their shares, even during the GFC, leading to both growth in income and capital.
The case to increase exposure
There are three reasons why now is a good time to increase exposure to international shares: attractive exchange rates, more compelling valuations, and exposure to important trends shaping the global economy over the next five to 10 years.
The Australian resources boom resulted in very attractive terms of trade for the local currency and this, combined with a strong economy and interest rates that are materially higher than other major economies, has, until recently, resulted in strong demand for the Australian dollar. However, while the terms of trade and interest differentials have supported the local currency in the short-term, a better predictor of currency movements in the longer term has been the concept of purchasing power parity (PPP).
The Australian dollar is still trading at relatively high levels compared with most of the major currencies. The long-term average exchange rate with the US dollar since the Australian dollar was floated in 1983 is just above 70 cents. This is also in line with purchasing power. The outlook for US interest rates is potentially upward, while Australia is now in a position where we are at best at a neutral setting, with some possible downside.
Therefore, Australian investors are in a position where they can invest overseas into some great global businesses, which are exposed to some megatrends, at attractive exchange rates.  Another factor worth considering is the weight of cash that has been driving some Australian stock valuations to often quite high levels through our compulsory superannuation levy.
Many high-quality global companies are often trading on valuations that are much more reasonable. A good example is the healthcare sector, where the valuations in some high-quality businesses overseas are 20 to 40 per cent cheaper than locally listed companies.
Focus on strong companies in developed markets
Emerging markets in Asia, Latin America and Africa can offer many investment opportunities for Australians venturing offshore, but do represent a higher risk than the major markets of the US and Europe. There are opportunities to invest directly into these emerging economies, but we believe a more prudent and rewarding way is to look for companies listed in developed markets with direct exposure to emerging markets as a major driver of growth.
We believe it is usually safer to invest in a company that meets strict US or European corporate governance practices, whereas emerging markets are often still developing best-governance practice.
Examples of First World companies that have strong and growing exposures to key emerging markets but are governed and listed in the UK, are Diageo (well-known brands such as Johnnie Walker and Baileys) or Reckitt Benckiser (global brands include Finish dishwashing powder and Dettol).
Introducing the Global Titans Fund
Insync's core philosophy is to grow wealth through consistent equity returns while protecting investors' wealth against potential significant downturns. This is done through two key steps.
First, a core portfolio of truly exceptional companies. They must meet strict investment criteria, including high returns on invested capital, strong free cash flow generation, high visibility of earnings and resilient and dominant market positioning. Also, companies that have a strong shareholder focus in terms of consistent and growing dividends and/or share buybacks.
Empirical evidence shows that companies with these attributes outperform markets in the long term and tend to be more resilient during more volatile periods.
Second, we manage downside risk. Where we are different is that we offer protection or insurance against sudden and significant downturns through the strategic use of index puts to cushion investors through volatile periods.
During the past two periods of high volatility, the EU crisis and the US debt debacle, the equity markets fell sharply, while Insync's Global Titans Fund increased in value. We also actively manage the currency to smooth out the extremes that can occur over the investment cycle.
Insync Global Titans Fund Performance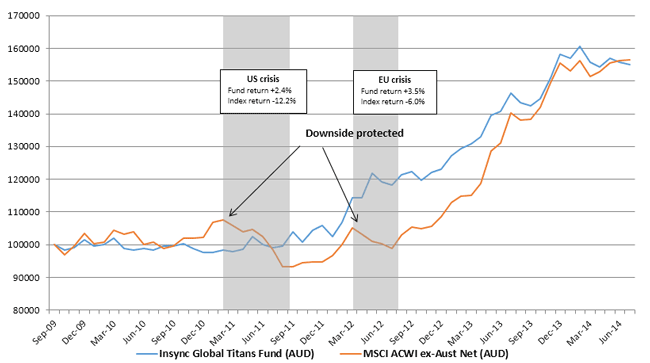 Source: Insync
About the author
Monik Kotecha is Chief Investment Officer of Insync Funds Management. He has 20 years of funds management experience in international and Australian equity markets, including 15 years of managing top-quartile performing portfolios.
From ASX
Learn more about diversifying your investment across other high-yielding strategies at the upcoming 'Unlocking the value of diversification' seminars, being held nationally in October.
<!IoRedDot_txt_disclaimer>The views, opinions or recommendations of the author in this article are solely those of the author and do not in any way reflect the views, opinions, recommendations, of ASX Limited ABN 98 008 624 691 and its related bodies corporate ("ASX"). ASX makes no representation or warranty with respect to the accuracy, completeness or currency of the content. The content is for educational purposes only and does not constitute financial advice. Independent advice should be obtained from an Australian financial services licensee before making investment decisions. To the extent permitted by law, ASX excludes all liability for any loss or damage arising in any way including by way of negligence.

© Copyright 2017 ASX Limited ABN 98 008 624 691. All rights reserved 2017.