Capitalise on tectonic currency shifts
This article appeared in the November 2014 ASX Investor Update email newsletter. To subscribe to this newsletter please register with the MyASX section or visit the About MyASX page for past editions and more details.
Fundamentals support further rise in US dollar, and fall in Australian dollar.

By David Bassanese, BetaShares
One of the potential mega-investment themes over the next few years is likely to be the rise and rise in the world's reserve currency, the United States dollar. And thanks to the widening array of exchange-traded products (ETPs) on ASX it has never been easier for local investors to gain exposure to this potential major global trend.
The US dollar's time may well have come. In real terms, the cycles in the US dollar index since the early 1970s have been fairly large and relatively uniform. There have been two major upturns - starting in 1978 and 1995 - each spanning just over six years and producing 52 per cent and 34 per cent gains respectively.
There have also been two long-term downturns - starting in 1985 and 2002 - each lasting around 10 years and producing US dollar index declines of around 30 per cent.
(Editor's note: To learn more about the features, benefits and risks of exchange traded products, take the free, ASX online ETF course.)
The real US dollar exchange rate last bottomed in mid-2011 and has lifted by around 8 per cent over the past three years. Even so, on historic grounds, the greenback still appears cheap.
US dollar real exchange rate index
January 1973 to January 2013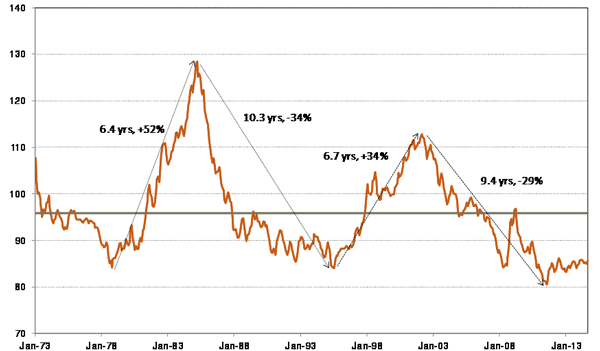 Fundamentals also support further US dollar strength, with the US economy displaying greater dynamism than those of Europe and Japan. Indeed, while the US Federal Reserve is now winding back its quantitative easing program (an unconventional form of monetary policy to stimulate economies) and is likely to raise interest rates by mid/late 2015, interest rates in Japan and Europe are expected to remain low.
The European Central Bank (ECB) is even contemplating stepping up its own monetary stimulus campaign in a desperate attempt to breathe life into the moribund European economy.
Accordingly, both history and relative economic fundamentals suggest we may now be in the relatively early stages of the next great US-dollar bull run. If history is any guide, we have about three and half years in the current upturn to run, which could produce 20-40 per cent of upside real gains.
The Australian dollar, meanwhile, is likely to weaken further - due to both continued declines in the price of exports relative to imports (the terms of trade), and a rise in US interest rates relative to our own. Indeed, based on Federal Treasury Budget-time projections on the degree to which the terms of trade might fall in coming years, history suggests the Australian dollar could fall to as low as US70c.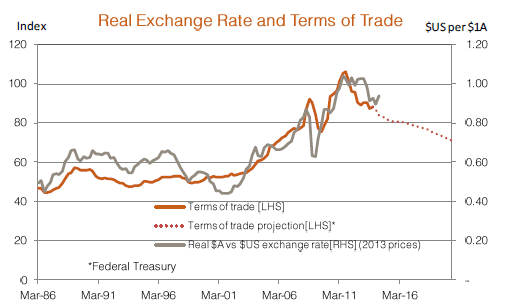 Source: Treasury, Thomson Reuters, BetaShares
Gaining exposure to US-dollar trend
Investors can gain exposure to these potential tectonic shifts in currency alignments. They now have the option of simply switching some of their cash exposure from Australian dollars to US dollars via ASX, by buying the US dollar ETP, which essentially places your funds in US bank deposits.
For those seeking higher risk-return options, there are a range of unhedged US equity ETPs on ASX (not protected against currency movements), which provide exposure to both US equity prices and the US dollar. Even if Wall Street goes sideways, these ETPs should provide a positive return if the Australian dollar declines against the greenback.
And for those seeking high regular income returns - and are perhaps less sure US equity prices will continue to rise strongly - there is a recently launched ETP that tracks the US S&P 500 index but with a covered call option overlay.
By selling slightly out-of-the money call options over the S&P 500 index, the BetaShares S&P 500 Yield Maximiser Fund (UMAX) aims to produce higher regular income returns - above that provided by the stock dividends alone - though at the cost of potentially missing some upside capital returns if the US market rallies strongly.
Note that as UMAX is also an Australian-domiciled ETP - unlike other US equity ETPs currently on the Australian market - investors avoid having to fill out W8-BEN forms to reduce their US withholding tax payable, and avoid any potential US estate tax implications associated with ownership.
Investors should also be aware that some ETPs covering non-US equity markets can also offer US dollar exposure, as the exchange rates of these economies, such as Hong Kong and China, are set by a managed peg to the greenback.
Of course, the Australian ETP market is ever evolving and a number of new US dollar opportunities are likely to emerge over the next year or so. That said there already seems enough choice for energetic investors seeking US dollar exposure to begin realigning their portfolio for the post-mining-boom Australian environment.
About the author
David Bassanese is chief economist at BetaShares, a leading ETP issuer.
Follow David on Twitter @DavidBassanese
From ASX
Exchange Traded Products has information on the features, benefits and risks of ASX-listed ETPs.
<!IoRedDot_txt_disclaimer>The views, opinions or recommendations of the author in this article are solely those of the author and do not in any way reflect the views, opinions, recommendations, of ASX Limited ABN 98 008 624 691 and its related bodies corporate ("ASX"). ASX makes no representation or warranty with respect to the accuracy, completeness or currency of the content. The content is for educational purposes only and does not constitute financial advice. Independent advice should be obtained from an Australian financial services licensee before making investment decisions. To the extent permitted by law, ASX excludes all liability for any loss or damage arising in any way including by way of negligence.

© Copyright 2017 ASX Limited ABN 98 008 624 691. All rights reserved 2017.