Lock in three bank dividends over 13 months
This article appeared in the November 2014 ASX Investor Update email newsletter. To subscribe to this newsletter please register with the MyASX section or visit the About MyASX page for past editions and more details.
What the share-price charts say about CBA, ANZ, Westpac and NAB.

By Nick Radge, The Chartist
The past few years has been a great time to be invested in the major banks, with strong demand for yield being a driving force pushing prices higher. The banking sector makes up a little more than 30 per cent of the Australian sharemarket, so its strength has been a core component of pulling broader indices higher and creating a two-speed market.
Chatter about deflation and slower economic growth through Europe and China suggests the Reserve Bank will hold domestic interest rates lower for longer, and perhaps even cut them further, despite resistance in the broader market at this stage.
Even so, the demand for higher-yielding stocks, the buoyant property lending environment and the need for safety, will ensure the banks retain support.
Over the next 13 months there is opportunity to lock in three dividends from ANZ, Westpac and National Australia Bank, as well as Bank of Queensland outside the big four.
(Editor's note: Do not read the following ideas as stock recommendations. Do further research of your own or talk to a financial adviser before acting on themes in this article).
The first chart below is the percentage price change of the larger banks since the lows in 2009. CBA and ANZ are clearly the two favoured, with non-dividend adjusted price gains of 160 per cent and 145 per cent respectively. Westpac (100 per cent) and NAB (90 per cent) are the laggards.
Percentage price change of larger banks since lows in 2009
Source: Premium Data
CBA provides insights
Let us look at each of the majors from a technical (charting) perspective. First, Commonwealth Bank, shown below in a weekly chart format, is the best starting point because it has been the market leader, so will offer great insights. Price action tends to move in waves, and while not every move will be identical to the last, the patterns seen across thousands of stocks over many decades are broadly the same and suggest what to expect in the future.
For example, the decline in Commonwealth Bank at A on the chart is actually a lot shallower than is typically seen at this stage of the trend. This means that buyer demand for CBA shares during the pullback was higher than usually expected and therefore a bullish sign. The share price recovery with minimal disruption on the chart attests to the strong demand for CBA shares.
The current dip in price portends the start of the next stage, which is usually a sideways meander with a slight bias to the downside. Typically that downside bias will see prices pull back into the zone annotated at B. However, we need to keep this expectation in context of what occurred previously at A, specifically that buyer demand stepped up much earlier than normal, and also within the context of current interest rates and investor appetite for yield.
Both these factors suggest that the wanted dip into the zone at B is currently unlikely. This zone extends from $63 to $67.80. Indeed, an extended sideways period that does not include a journey to that zone is extremely bullish for the longer term.
Commonwealth Bank weekly chart
2004 to 2014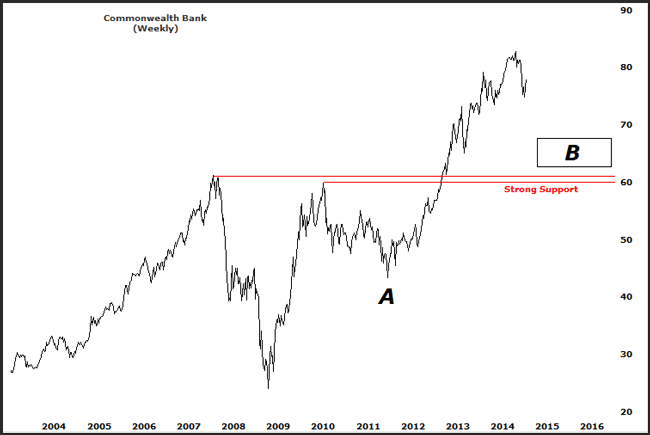 Source: Premium Data
ANZ's run disturbed
ANZ Bank looks similar in structure, but although it remains in a bullish position like CBA, comparatively it has a few slightly weaker traits. First, the recovery from GFC lows in 2010 was quite a distance short of the 2007 peak, unlike CBA, which almost made it all the way back. Next consider that price has recently made new second highs, yet by a much smaller margin than what CBA has done.
These two points run hand in hand, but the important issue is that ANZ's recent run to new highs has not been as swift and undisturbed as CBA's. The few bumps on the way higher, albeit minor, are a sign of trend weakness. Therefore, while we anticipate a pause in the trend, we expect a move back into the zone annotated at D (on the ANZ chart below) is highly probable. This zone sits between $26.50 and $28.50.
ANZ weekly chart
2003 to 2014
Source: Premium Data
Westpac upswing volatile
The Westpac chart below shows a typical price structure. The more typical the patterns, the more likely they are to continue to follow their respective paths. From the GFC lows through to 2010, Westpac powered higher in a very swift trend. It settled back to point E in a very choppy fashion, a clear indication of a stock taking a pause rather than starting a new bearish trend.
The decline into the 2011 lows was also the typical depth and then we saw renewed upswing unfold in a very strong manner.
The only concern is that latter stages of the move to $35 became quite volatile and this also, like ANZ, suggests a high probability of prices falling back to the zone at F between $27.20 and $29.20.
A caveat is needed here. That zone straddles an important level of support at $28.20. In an ideal situation, and one that needs to occur to remain confident of a swing to new highs, is that prices should not drop below $28.20.
Technical analysis is not about prediction. It is about tracking price progression to validate or invalidate typical pattern formation. As with any kind of analysis, as new information comes to light the picture and outlook can change. In Westpac's case, a drop below $28.20 would invalidate the current bullish structure and be a significant warning sign.
Westpac weekly chart
2003 to 2014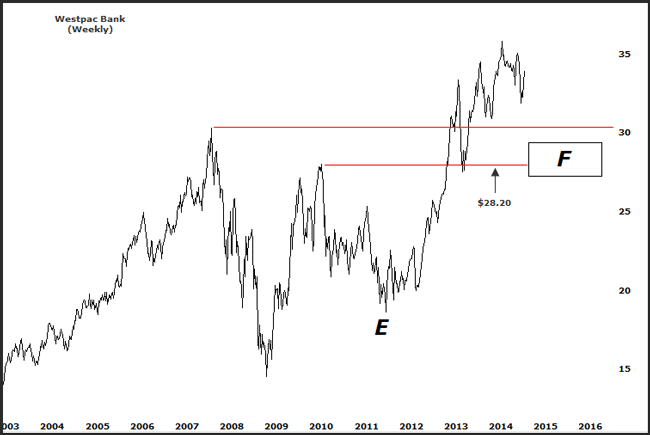 Source: Premium Data
NAB disappointment
Our final chart is for National Australia Bank, the laggard on a relative strength basis, and technically displaying weak price and trend progression.
First, NAB is still a long way short of its 2007 highs. Long-term investors would be reasonably disappointed with their capital growth. Second, the two thrusts since the 2009 lows are about equidistant. A potent trend progression should have the second thrust longer than the first.
The fact that they are the same length is not ideal, but nor is it of immediate concern. A period of sideways consolidation above the important line of support at $31.75 could lay a strong foundation for a renewed thrust higher and quite possibly allow the stock to get back to the 2007 peak levels.
However, any break below that line of support would invalidate any strong upward thrust. Prices may slowly meander higher, but the weight of evidence would certainly be weak and therefore the stock avoided.
 NAB weekly chart
2003 to 2014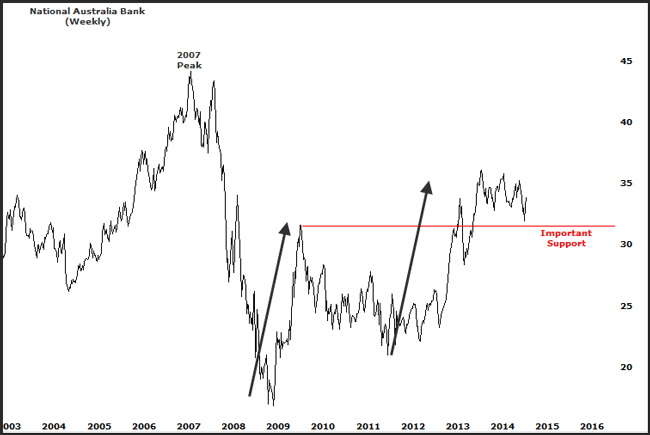 Source: Premium Data
Financial reforms
Overall, the technicals remain strong, more so for CBA and ANZ than for Westpac and NAB. However, the largest risk on the horizon is the reforms that might emerge from the Financial System Inquiry.
There have been two previous inquiries, in 1981 and 1997, and both led to significant changes in the industry. Investors are waiting on any signs that may detract from the purple patch that banks have had over the past few years.
About the author
Nick Radge is head of trading and research at The Chartist; He has more than 27 years' experience in financial markets, from the trading floor of the Sydney Futures Exchange to international dealing desks in London, Singapore and Sydney. He has authored several books on trading and investing, including his bestseller, Unholy Grails - A New Road to Wealth.
Contact Nick on Twitter @thechartist.
From ASX
ASX Charting Library provides a wealth of free material for beginners through to advanced chartists.
<!IoRedDot_txt_disclaimer>The views, opinions or recommendations of the author in this article are solely those of the author and do not in any way reflect the views, opinions, recommendations, of ASX Limited ABN 98 008 624 691 and its related bodies corporate ("ASX"). ASX makes no representation or warranty with respect to the accuracy, completeness or currency of the content. The content is for educational purposes only and does not constitute financial advice. Independent advice should be obtained from an Australian financial services licensee before making investment decisions. To the extent permitted by law, ASX excludes all liability for any loss or damage arising in any way including by way of negligence.

© Copyright 2017 ASX Limited ABN 98 008 624 691. All rights reserved 2017.