Lincoln: 10 stocks and key sectors to watch in 2015
This article appeared in the January 2015 ASX Investor Update email newsletter. To subscribe to this newsletter please register with the MyASX section or visit the About MyASX page for past editions and more details.
A strong and satisfactory year of improved balance sheets. 
By Elio D'Amato, Lincoln
The start of the year is a great opportunity for investors to take stock of their portfolios. Despite a positive beginning to 2014, the All Ordinaries Index took a hit in recent months and in mid-December the Australian market was down about 2 per cent for the year. 
Lincoln's Financial Health model, below, shows the proportion of companies on ASX rated Strong and Satisfactory has marginally improved throughout the year, which reflects a continuing trend of companies strengthening their balance sheets. 
The percentage of companies rated Early Warning, Marginal and Distress has declined slightly but still make up a significant proportion of the market, and the recent spate of closures, fire sales and backdoor restructures is a reminder that without knowing the financials of a company, we are merely speculating and risking a loss.
Lincoln's Financial Health model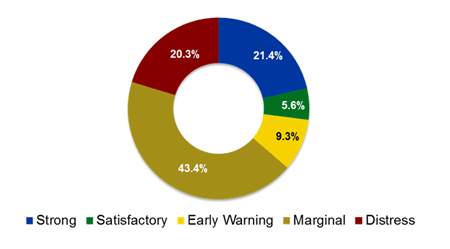 Source: Lincoln
Sector performances
Domestically, the key macro-economic driver has been the slowdown in growth within Australia's largest trading partner, China. This has had a material impact on two key exports, iron ore and coal. The iron ore price has almost halved this year, affecting even our major miners on ASX, despite Rio Tinto and BHP Billiton being the lowest-cost producers globally. 
Resource sector troubles were not limited to the mining sector. Oil and gas producers were hurt by crude oil prices falling from US$110 to below US$70 a barrel in the second half of the year as current major petroleum producers competed against expanding US shale gas operations. 
When combined with the weakness from the minerals sector, we have observed five of Australia's 20 largest listed stocks operate in extremely challenging environments in 2014. It has been a difficult period for the resource sector and the businesses that support the industry. 
We have remained significantly underweight in mining, materials and energy, because the fundamentals have made picking quality businesses very difficult. Our advice to investors is to stay cautious and wait until company results improve before trying to pick a bottom in this tough industry. 
Best performers
The top-performing sectors locally in 2014 were Healthcare and Telecommunications. Traditionally viewed as defensive sectors, these have good long-term thematics, continue to deliver strong growth and have seen further consolidation. 
Healthcare in particular is dominated by a number of multinational companies on ASX, including CSL and Ramsay Health Care. They have been among the largest beneficiaries of the falling Australian dollar and the strong economic recovery in the US.
The recent Financial System Inquiry has put the Financials sector in focus, with the final report recommending higher capital ratios for the banks. Because this sector is among the largest on ASX, many investors are concerned with possible over-zealous regulatory recommendations that could stifle future performance. It was a relief to read that the inquiry recommendations are not expected to stretch the banks beyond the needs of the hungry income investor. Nevertheless, expect a bit of drag on growth expectations for banks. 
The largest float of the year, Medibank Private, received strong over-subscription from retail and institutional investors. History tells us that government floats traditionally do well within the first 12 months of listing. 
We expect Medibank Private to be in Strong Financial Health when it produces its first results as a listed entity, although investors should remember they have a choice with the allocation of their capital and therefore need to determine, once the listing excitement has died down, whether the stock aligns with their objectives.
2015 and beyond
Looking forward, Lincoln remains positive about the sharemarket and its future over the long term, but expects some volatility in the short term, driven by macro-economic developments. Positives for our market include the continued US economic recovery, lower oil prices, China easing to more sustainable growth levels, and continued stimulus in Europe and Japan. 
Domestically, we believe interest rates will remain low and inflation will be anaemic. Our stubbornly high currency is finally starting to ease back and we expect continued improvement in the health of Australian companies. 
In addition, with dividend yields from our best companies still well above bond yields, the market should continue to see support from a fundamental perspective, and any further pullback may present opportunities to invest in quality companies. 
There will be opportunities in all sectors. However, broadly speaking, over the next 12 months Lincoln expects to see the highest concentration of its Star Stocks in Healthcare, Telecommunications and the service providers in Consumer Discretionary. 
Despite some value emerging in Energy and Materials, given commodity price weakness we expect to see ongoing challenges over the near term. With many of the market's unhealthy businesses exposed to these sectors, it could be a difficult time for those who have already seen significant erosion in their net wealth.
10 stocks to watch in 2015
(Editor's note: do not read the following ideas as stock recommendations. Do further research or your own or talk to a financial adviser before acting on themes in this article).
1. Arena REIT (ARF) - Star Income Stock
The stable and favourable long-term outlook for the childcare and healthcare industries will underpin ARF's long-term cashflows and sustain its distributions to security holders. ARF is looking to broaden its tenant base to spread risks arising from prospective regulation changes.
2. Carsales.com (CRZ) - Borderline Star Growth Stock
CRZ's management has highlighted that trading has started positively in the first quarter and we expect the core business, supported by Stratton Finance and Tyresales, will contribute to earnings growth in FY15. Long-term growth opportunities internationally remain through investments in Brazil, South Korea and South-East Asia. 
3. CSL (CSL) - Star Growth Stock
A strong product pipeline, including the impending launch of a new haemophilia drug and the successful integration of Novartis global influenza vaccine business, will support CSL's continued growth. CSL's recent investments in additional capacity will prepare the company to take advantage of increasing demand for its products.  
4. Infomedia (IFM) - Star Growth Stock
IFM has set the bar for another year of strong performance with management reiterating guidance for FY15 NPAT as a "conservatively achievable" target. The company will look to consolidate on its pilot program success and Superservice module penetration, while receiving currency benefits from offshore earnings.  
5. OzForex Group (OFX) - Borderline Star Growth Stock
After a little too much exuberance from investors after listing, we now believe OFX is at more attractive levels. With a solid half-year result due to its global expansion, OFX's business model provides good operating leverage and we expect further improvement in margins.
6. Ramsay Health Care (RHC) - Star Growth Stock
We expect the private hospitals operator RHC to see strong contributions from its facilities in Australia, France, UK and now China, which will support RHC's long-term growth. 
7. Shine Corporate (SHJ) - Borderline Star Growth Stock
Shine is a Queensland-based business focused on personal injury litigation. It is hoping to follow in the footsteps of previous incumbents by embarking on a strategy targeting acquisition-led growth in earnings. The most recent being an $8.75 million purchase of Sciaccas Legal, specialists in personal injury, employment law and family law. 
8. Thorn Group (TGA) - Star Income Stock
TGA reported a solid performance in the Radio Rentals business and Thorn Financial Services. Management reiterated FY15 earnings guidance. We expect a shift in the core business towards longer-term contracts, growth in receivables and acquisitions being key drivers of growth and also providing an attractive income stream for investors. 
9. TPG Telecom (TPM) - Borderline Star Growth Stock
TPG's recent regulatory win means its "Fibre to the Basement" (FTTB) strategy is well placed moving forward. Apart from the FTTB strategy, we expect growth from net subscriber gains, a higher margin product mix, and continuing synergy gains and scale uplift from its AAPT acquisition. 
10. Treasury Group (TRG) - Star Growth Stock
TRG reported a strong full-year result, with its boutique partners performing well and continuing to grow funds under management. The company recently completed its merger with US-based Northern Lights Capital Group, a transformational deal that delivers increased scale, improved geographic and product diversification, and enhanced global distribution capabilities. 
About the author
Elio D'Amato is chief executive of Lincoln, a leading Australian share researcher and investor.
From ASX
ASX Investment videos feature some of the market's best commentators and are a great way to stay in touch with market trends.
<!IoRedDot_txt_disclaimer>The views, opinions or recommendations of the author in this article are solely those of the author and do not in any way reflect the views, opinions, recommendations, of ASX Limited ABN 98 008 624 691 and its related bodies corporate ("ASX"). ASX makes no representation or warranty with respect to the accuracy, completeness or currency of the content. The content is for educational purposes only and does not constitute financial advice. Independent advice should be obtained from an Australian financial services licensee before making investment decisions. To the extent permitted by law, ASX excludes all liability for any loss or damage arising in any way including by way of negligence.

© Copyright 2017 ASX Limited ABN 98 008 624 691. All rights reserved 2017.