This article appeared in the March 2015 ASX Investor Update email newsletter. To subscribe to this newsletter please register with the MyASX section or visit the About MyASX page for past editions and more details.
What the share-price charts say about Ramsay, Sonic, Primary Health Care and ResMed.
By Michael Gable, Fairmont Equities
If you have been outperforming the sharemarket in the past few years, chances are you have been holding some quality healthcare stocks. Three years ago the S&P/ASX 200 health care sector index was under 9000 points. This year it has hit 18,000.
Although much of the heavy lifting has been done by CSL, it is worth looking at other quality healthcare stocks. Some have been steadily increasing for the past few years; others have underperformed their peers.
The charts give some insight into how some of these stocks are tracking and what the future might hold. This month I look at Ramsay Health Care (RHC), Sonic Healthcare (SHL), Primary Health Care (PRY) and ResMed (RMD).
(Editor's note: Do not read the following ideas as stock recommendations. Do further research of your own or talk to a financial adviser before acting on themes in this article).
1. Ramsay Health Care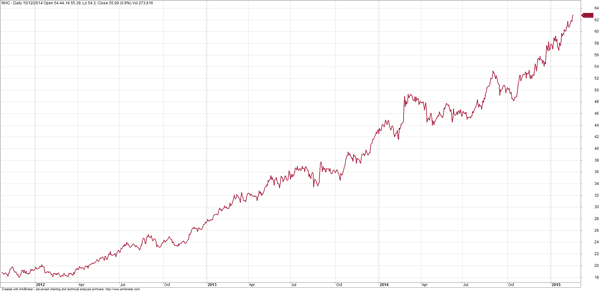 Ramsay Health Care is a global hospital group, better known in Australia as an operator of 66 private hospitals, and has been one of the better-performing health stocks in recent years. From under $20 three years ago, it is now trading above $60.
It has been one of those companies that have frustrated investors on the sideline. It tends to trade on a price-earnings (PE) ratio between the mid-30s to 40. When the overall market averages a ratio of just over 14 times, Ramsay always looks expensive.
That has kept some investors on the sidelines, but it is important to realise that some companies are expensive for a very good reason.
Looking at Ramsay's chart over the past few years, we can see it has steadily traded higher, generally moving at a 45-degree angle with only the occasional easing off for the market to digest the bullish move.
We can look at momentum indicators that suggest the stock is overbought, but these danger signs have been flashing up since the stock was trading in the $20s.
It is important to realise that in a strong trend, it is OK for a stock to look overbought. As long as the trend is up, it is usually profitable to stick with it.
Investors who have taken this advice have been rewarded with a tripling of their money in the past three years. At the time of writing, Ramsay was yet to report its half-year results, but provided it does not disappoint and break the uptrend, the market is telling us it is happy to push this stock even higher.
2. Sonic Healthcare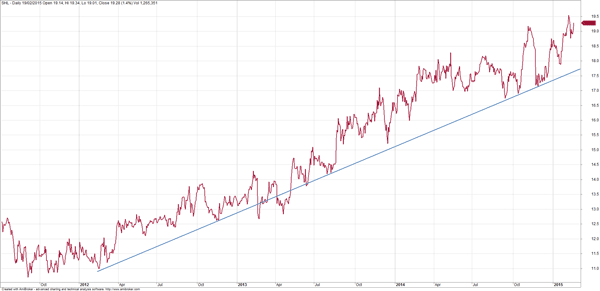 Sonic Healthcare is an international medical diagnostics company, with pathology services being a core speciality. We like the stock and have been rewarded in an almost doubling of its share price over the past few years.
The trend is clearly up, but the share price movements have been a lot more volatile in comparison to Ramsay. Volatility increased noticeably last year when there were concerns that a GP co-payment could affect the business. With those fears fading, Sonic has continued to march higher.
The extra volatility in the stock means the dips are sizeable enough to find a good entry point. I would be looking for a dip closer to $18, which would be right on the longer-term uptrend line (show by the blue line on the chart above).
3. Primary Health Care
Primary Health Care owns a network of medical centres along with pathology services. Its performance has not been as impressive as Ramsay or Sonic over the past three years. Initially from its lows in 2012, the stock quickly doubled in value but it has then spent nearly the past 18 months drifting down.
This compares to Ramsay and Sonic steadily trending higher the whole time.
Primary's earnings initially had a shot in the arm because of acquisitions, but with that slowing and the prospect of a change in government in 2013, the share price could not head any higher. Although the stock has been trending down for more than 18 months, it is worth looking at from a longer-term perspective.
This involves looking at the timing of the moves. It took about 12 months for the stock to almost double in value from its 2012 low. A year and a half later it could not retrace 50 per cent of the recent rally. We can see this graphically on the chart.
This is a bullish sign as it indicates that the bears, given more time, cannot even bring the share price back to where it started. This is referred to as a correction against the trend, and often it is just a matter of time until the uptrend resumes.
Investors need to wait for the price to break above this shorter-term downtrend, and we can see this briefly occurred in February. As long as the share price can start closing above this downtrend line, we could be seeing the beginning of a rally in Primary as it resumes the previous uptrend that started in 2012.
4. ResMed Inc
ResMed is an international company that develops, manufactures and markets medical products for respiratory disorders such as sleep apnoea. It is one of our favourite stocks and the share price has more than tripled in the past three years.
ResMed's chart displays a combination of the characteristics seen in the previous three stocks. It initially started trending fairly nicely from its lows in 2012, not too dissimilar to that seen with Ramsay.
However, from October 2013 the stock started to correct against the trend, similar to what we have seen with Primary. As the market became worried about profit margins and competitive pressures, the stock price was pushed lower for the next six months.
Like Primary, it was clear that the pullback was just a correction against the longer-term uptrend. It was therefore just a case for us to wait for a break of this downtrend in order to re-enter, or purchase some more shares.
This happened in April last year. From there the shares traded higher for a number of months, but in a very choppy manner, similar to the longer-term trend of Sonic. However, the past few months have seen ResMed quickly rally, culminating in some impressive second-quarter results.
Because of the rapid increase in the share price over the past few months, ResMed looks overbought on the charts. With a lot of volume (share turnover) coming in at the price high, we could be witnessing some exhaustion of buyers.
This is where retail investors stuck on the sidelines become frustrated at the price getting away from them, so they all rush in at the last minute, sending the share price higher in a vertical manner.
Sometimes you will see this get taken advantage of, especially by the larger players, and selling into this strength may occur.
As a result, we would expect to see some shorter-term weakness from here. We have some support at $7.40. If that breaks, then we could see the stock back into the mid-$6 range as a worst-case scenario.
However, the longer-term trend is still strong, so we anticipate strong buying to occur in RMD with any dip in the share price.
About the author
Michael Gable is managing director of Fairmont Equities, a share advisory firm. He is also a media commentator and board member of the Australian Technical Analysts Association.
From ASX
ASX Charting library provides a wealth of free material for beginners through to advanced chartists.

<!IoRedDot_txt_disclaimer>The views, opinions or recommendations of the author in this article are solely those of the author and do not in any way reflect the views, opinions, recommendations, of ASX Limited ABN 98 008 624 691 and its related bodies corporate ("ASX"). ASX makes no representation or warranty with respect to the accuracy, completeness or currency of the content. The content is for educational purposes only and does not constitute financial advice. Independent advice should be obtained from an Australian financial services licensee before making investment decisions. To the extent permitted by law, ASX excludes all liability for any loss or damage arising in any way including by way of negligence.

© Copyright 2017 ASX Limited ABN 98 008 624 691. All rights reserved 2017.