This article appeared in the March 2015 ASX Investor Update email newsletter. To subscribe to this newsletter please register with the MyASX section or visit the About MyASX page for past editions and more details.
More information and tools makes it easier to research stocks.

By Max Cunningham, ASX
When making investment decisions it is important to do the research, and ASX has made it simpler to get started by revamping its listed company pages on the website. The pages offer a new level of detail and some easy-to-use interactive features that are designed for investors to quickly access the right information.
Check out the new-look pages, using Commonwealth Bank of Australia as an example
At a glance, you will be able to:
See where the current share price is trading relative to the 52-week range.
Access company market share and the number of shares on issue.
View the share price history over selected time periods.
Add selected companies to your watchlist.
The company pages have a fresh new design and include useful features such as the ability to analyse comparable companies based on market capitalisation, dividend yield, price-earnings (PE) ratio, or price movements.
For example, if you choose to expand the interactive charting tool for your selected stock, the four next-nearest ASX-listed companies by market capitalisation appear at the top as suggestions for comparison.
The example below shows the market's five largest banks
Source: ASX
Using the charting function, investors can type in different company names to compare the performance across multiple stocks and across multiple timeframes, as show in the charts below.
Chart 1: BHP Billiton compared to Rinto Tinto over five years
Source: ASX
Chart 2: BHP Billiton compared to Rio Tinto over 1 year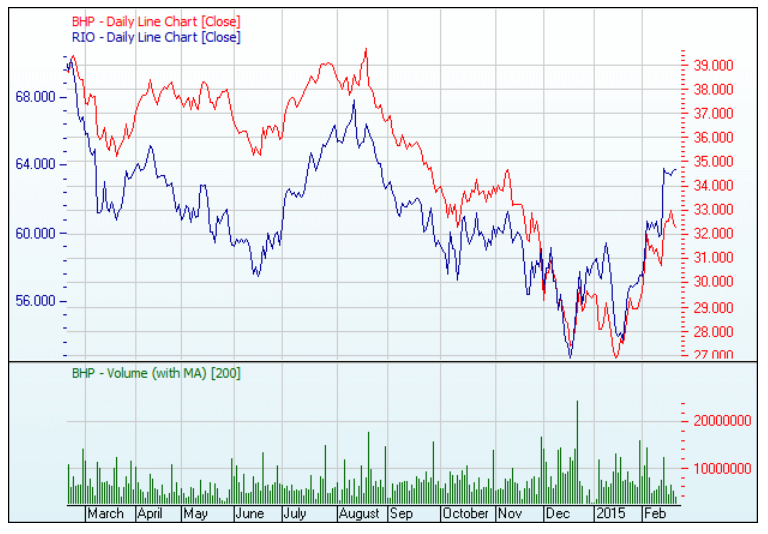 Source: ASX
Company announcements can be easily searched, with a filter applied to view price-sensitive announcements, dividends and distributions, or other specific types of announcements.
Investors interested in reviewing the latest company annual report can easily find a link under the Resources section at the top of the page. Previous years' annual reports can also be found when doing a search under Company Announcements. Where a listed company is participating in the ASX Research Scheme, direct links to the broker research are also available.
Finding an adviser
Not sure how to go about buying or selling a particular stock? The new pages also have a link to ASX's Find a Broker page that helps you identify the right broker for your needs and investment capital.
ASX will be running a marketing campaign to tell investors about the changes, so now is a good time to review the site and start adding companies to your watchlist.
About the author
Max Cunningham is General Manager, Listings and Issuer Services, ASX.

<!IoRedDot_txt_disclaimer>The views, opinions or recommendations of the author in this article are solely those of the author and do not in any way reflect the views, opinions, recommendations, of ASX Limited ABN 98 008 624 691 and its related bodies corporate ("ASX"). ASX makes no representation or warranty with respect to the accuracy, completeness or currency of the content. The content is for educational purposes only and does not constitute financial advice. Independent advice should be obtained from an Australian financial services licensee before making investment decisions. To the extent permitted by law, ASX excludes all liability for any loss or damage arising in any way including by way of negligence.

© Copyright 2017 ASX Limited ABN 98 008 624 691. All rights reserved 2017.