This article appeared in the May 2012 edition of the Listed @ ASX newsletter.
In a wide-ranging interview, Australian Securities Exchange chief executive, Elmer Funke Kupper, talks about the exchange's priorities, the future of global exchanges, and growth in high-frequency and off-market "dark pools" of liquidity. Here is an edited extract of the interview: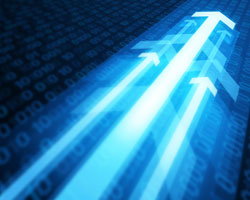 By ASX
Listed@ASX: Elmer, what are your main priorities for ASX?

Elmer Funke Kupper: There are three main priorities. The first is ensuring ASX continues to respond to changing regulatory and competitive environments. Our business has handled that change well so far, but it is a continuous process, not something that starts and finishes.

The second priority is developing and delivering new products and services. There is quite an exciting pipeline of ASX initiatives, such as collateral management, a new managed funds service, changes to ASX Listing Rules to help small and mid-size companies, and a pilot program to encourage more research on smaller listed companies. These initiatives will help our customers, and help ASX, grow against a backdrop of softer global market activity.

The third priority is to better link ASX to global capital markets over time. For example, ASX organises investor briefings overseas for ASX-listed small and mid-size companies. Collaboration with other exchanges may also help to improve liquidity, reduce costs and broaden the products available to our customers.  We will continue to explore such opportunities in the various parts of our business.

A common theme in each of these initiatives is for ASX to be externally and customer focused.  We need to listen to our customers, respond to their needs and work with them.

Listed@ASX: What does the future of global exchanges look like in your view?

Elmer Funke Kupper: I see three key trends. First, competition will continue to intensify as regulation and technology allow new exchange models to emerge. ASX's best response is to be very nimble and quick, and we have done well to prepare for changes in the market so far.

The second trend will be more exchanges moving towards the ASX model of being a multi-product, vertically integrated exchange. This model is the most successful and typical of exchanges in the Asian time zone.  Having a multi-product, vertically integrated exchange creates efficiencies and the balance sheet and investment capacity you need to compete in a global market. A strong exchange also means strong capital markets, which is important for the broader Australian economy.

The third trend will be more merger attempts by global exchanges. That trend is on hold for now following several failed merger attempts, but the logic has not gone away.

Listed@ASX: How can ASX capitalise on strong growth in emerging markets?

Elmer Funke Kupper: We already are capitalising on growth in the resources industry, driven by the Asian region. There are approximately 975 resource-related companies listed on ASX, with about 650 based in Perth. ASX has proved to be a very efficient exchange for junior resource companies to raise capital and list. I am excited about the potential of Australia's resources sector, but at the same time am concerned that the rest of the economy does not keep pace.  We need broad based economic growth to be successful.

Listed@ASX: Do you expect more Australian companies will dual list on offshore exchanges?

Elmer Funke Kupper: Dual listing is likely to be a permanent feature of the mid and small cap end of our market – but only in certain sectors. Australian high-growth companies, particularly those in the resources or life science sectors are in constant search for sources of new capital. Their products and markets are priced globally, so unlike small local manufacturers or financial companies, they're not locked into Australia for fund raising. Add to this the fact that technology and settlement connectivity between global markets has made listing on more than one exchange easier now than it has ever been. This gives companies the opportunity to take advantage of particular funding specialisation or market focus that exists in overseas markets, which may be a focus on say gold or nickel in one market, or even a geographic focus in another, such as South American mining projects being popular in Canada right now, while African projects are doing well on ASX.

Our job is to make sure listing on ASX continues to provide value and compare very well internationally and you've picked up on some of the things we're doing to achieve that elsewhere in this newsletter.
It is more a consideration for the mid and small cap end and there seems to be little need for larger companies to seek equity capital offshore.
Listed@ASX: Are you concerned by global growth in high-frequency trading?

Elmer Funke Kupper: We should recognise that high-frequency trading is here to stay. Our job is to operate within the rules we have been given and to provide our customers with a range of execution facilities – some of which suit high frequency trading, and some that do not. High-frequency trading is flourishing globally because of regulatory changes and technology advancements. ASX has done a good job of adapting its business model to this new world. For example, we now offer sophisticated technical services and infrastructure to high-frequency trading firms and other customers.  This business has been growing strongly.

That said, ASX also has a responsibility to comment on issues that affect the operation of our financial markets.  High-frequency trading can introduce new risks to a market, as we saw during the 'flash crash' in the USA last year.  I believe that ASIC has so far taken a sensible approach to the regulatory environment for high-frequency trading.

Listed@ASX: Are you concerned by global growth in so-called "dark pools" of liquidity, where broking firms or other institutions arrange the sale of securities outside of an exchange?

Elmer Funke Kupper: I have deep concerns about the way dark pools and broker 'internalisation' is evolving around the world, which is removing liquidity from exchange traded markets. The problem is that dark pools do not have published rules or published commercial terms, and can only be accessed by investors who are able to deal with the specific pool. This goes against the principles of running Fair, Orderly and Transparent markets and can adversely affect the integrity of the market. 

ASX offers a deeply liquid, lit market that is available to all investors.  It is the market that the economy relies on to fund its growth, and in a crisis, secure its survival.  During the GFC, Australian companies raised $140 billion in fresh equity over 18 months.  That is more than 10% of the entire capitalisation of the Australian market.  It made Australia the most effective capital market on the globe.  We can never put this capital formation function at risk to benefit an individual market participant or group of participants.

Don't get me wrong.  There is a role for dark execution in well regulated markets; for example, when institutional investors want to buy or sell very large parcels of shares. But we are starting to see dark pools executing orders well below large sized blocks and there are no limits on how small these orders can get – in theory, most of the market could execute through them. This creates a risk to our market and there should be clear boundaries to ensure the lit markets (ASX and Chi-X) remain relevant.

It is very hard to find conclusive evidence about when dark pools become a serious problem. If you wait for a problem to emerge, you will have the answer, but it will be too late.  Managing this risk requires the best available facts and considerable judgement, so that measures are put in place early enough, even if they may prove unpopular.

Listed@ASX: ASX has several initiatives under way to help small and mid-size ASX-listed companies, such as changes to Listing Rules. What is the rationale behind this focus?

Elmer Funke Kupper: Basically, it is about Australia's capital market competing with global markets, some of which have more flexible listing rules for smaller companies and a more attractive tax regime. ASX has been running behind on aspects of its Listing Rules and this is something we are hoping to address. We have put proposals forward to make our Listing Rules more flexible for smaller companies, and to encourage more broker research on such companies. We want to make it simpler for smaller companies to raise equity capital, while ensuring investors are protected. Getting this right creates a win for companies, financial intermediaries, investors and our capital market.

Listed@ASX: How important is the development of a large ASX corporate bond market?

Elmer Funke Kupper: We saw during the GFC how quickly global bank funding can dry up. Companies need to diversify their funding sources, and Australian investors need more exposure to fixed income securities. A large, thriving listed corporate bond market therefore makes obvious sense.  We are keen to contribute to its development.
<!IoRedDot_txt_disclaimer>Information provided is for educational purposes and does not constitute financial product advice. You should obtain independent advice from an Australian financial services licensee before making any financial decisions. Although ASX Limited ABN 98 008 624 691 and its related bodies corporate ('ASX') has made every effort to ensure the accuracy of the information as at the date of publication, ASX does not give any warranty or representation as to the accuracy, reliability or completeness of the information. To the extent permitted by law, ASX and its employees, officers and contractors shall not be liable for any loss or damage arising in any way (including by way of negligence) from or in connection with any information provided or omitted or from any one acting or refraining to act in reliance on this information. This document is not a substitute for the Operating Rules of the relevant ASX entity and in the case of any inconsistency, the Operating Rules prevail.

© Copyright 2017 ASX Limited ABN 98 008 624 691. All rights reserved 2017.