A comprehensive guide to understanding and buying and selling shares on the Australian sharemarket.
The third edition of Starting out in shares - the ASX Way is your one-stop resource to understanding what shares are and how to buy and sell them. Inside you'll have the pros and cons of shares and other investments explained.
Many people don't know how the sharemarket actually works, this book takes you through this. In easy to understand language learn about:
how to set yourself up for share investment,
ways to manage a portfolio,
stock selection methods,
how to analyse shares and their prices and much more.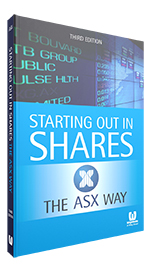 Visit the Dymocks webite for more information and to purchase the book.
Written by the ASX investor education team who have been providing the essentials of share investing for over 30 years. If you're a would-be or beginner investor looking for trusted information on how to begin, Starting out in shares - the ASX Way will give you the confidence and knowledge you need.