Listing on ASX
ASX offers companies a globally recognised listing and capital raising venue, attracting both Australian and international investors. ASX's significance as an equity market is reflected in the broader strength of the Australian economy, which has recorded 22 years of uninterrupted growth. With a relatively high-growth and low-inflation economy supported by robust political and economic institutions, and an internationally competitive business sector, Australia now ranks as the 12th largest economy in the world (measured by GDP), the 4th largest in the Asia-Pacific region. It has a well-developed funds management industry, with the world's 3rd largest pool of investable funds ($1.7 trillion assets under management).
ASX has over 2,000 listed companies, spread across all industry sectors and a range of geographical regions. It is the world's 8th largest equity market by free-float market capitalisation, the 9th largest exchange organisation and is consistently ranked in the top 5 exchanges for equity capital raising.
ASX in the "Asian century": Global index performance since 2000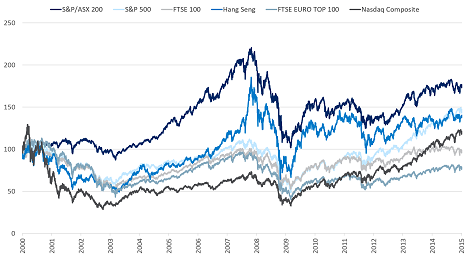 Listing on ASX provides:
Access to capital
At ASX, we can provide your organisation with access to retail and institutional investors and exposure to investment markets throughout the world. By listing, you will enter a new phase in your organisation's development where you will become part of a select group of organisations on the global capital stage.
Liquidity
An ASX listing provides secondary market liquidity and greater access to initial and ongoing funding that will enable your company to develop and grow. Listed companies may also be eligible to join key S&P/ASX indices, further enhancing liquidity.
Visibility
The enhanced profile of listing can benefit your business by improving credibility with customers, business partners, suppliers, investors and lenders. Listing on ASX has helped thousands of companies achieve their growth ambitions by successfully making the transition to public ownership. As a stock exchange based in Asia-Pacific, ASX gives listed companies visibility in the world's fastest growing region.