Flags are yet another variation of a correction to a trend. Rather than focus on a point, they tend to be rhomboidal in shape with the support and resistance lines being close to parallel. There are two forms, the bear flag, and the bull flag.

Bear Flag

The bear flag occurs as the result of a correction to a down move, and generally slopes up against the underlying down trend. 

Construction is quite straightforward, and is possible once the correction starts to take on the shape of a flag. The overhead line is drawn first across the tops of the corrective price bars. That sets the angle for the flag and the angle for the bottom support line, which does not always pick up the extreme low as in the example below.

This shape generally produces a new move lower. A sell signal is generated when price breaks out below the flag, and is the preferred direction. A buy signal would be generated on a breakout above the high side of the flag. Even so the probability of continuation higher is not as high as the probability for continuation to the down side in the event of a break of the flag.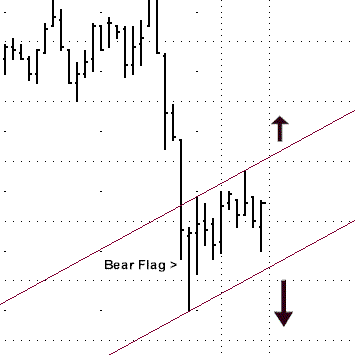 Bull Flag

The bull flag signals higher prices, and generally occurs as the result of a correction to an up move. 

Drawing the support line first, after recognising the basic shape of the flag, effects construction. The overhead resistance line can either be drawn parallel or at best fit, close to parallel. In the example below a line of best fit has been drawn, resulting in a slightly skewed flag. 

The trading signal is generated on any move out of the flag, higher or lower. There is a greater possibility, however, for the market to break out and rally than there is for the market to break down and continue to lower prices.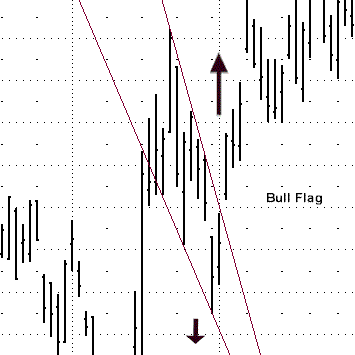 © Copyright 2003 CQG, Inc. All rights reserved worldwide
Disclaimer
© The MacLean Group Pty Ltd ACN 096 967 038. All rights reserved 2003. This article has been prepared by The MacLean Group and licensed to ASX. The views are those of the author and not of ASX. This material is educational and it is not intended to constitute financial advice.