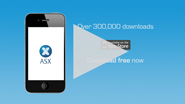 Keep up-to-date with the Australian stockmarket, wherever you are, with the free ASX iPhone app.
Features:
Closely monitor your 20 favourite companies
Receive real-time company announcement alerts for your favourite companies
Filter company announcements by date, time, sector and price sensitivity
View the performance of the S&P/ASX 200 and the All Ords indices in real-time
Search for stock prices for all equity securities (20 minute delayed)
Review the top gains and declines for the S&P/ASX 200
Search for companies by their name or code.
Available for download from iTunes
If you have any questions or comments email ASX at info@asx.com.au or phone 131 ASX (131 279).
Please ensure your iPhone software is up to date (iOS 3.0 or later).