Back to articles
Bennelong launch Twenty20 Australian Equities Fund (mFund code: BAE04)
news
Bennelong launch a new equities fund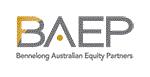 Today Bennelong Australian Equity Partners adds their fourth fund to mFund. The Bennelong Twenty20 Australian Equities Fund invests passively in the top 20 stocks, similar to an index fund, whilst actively investing in the ex-20 market. The ex-20 component of the portfolio will employ the same highly successful investment methodology used in the Bennelong ex-20 Australian Equities Fund.
The fund holds 40-55 stocks and the weighting of top 20 and ex-20 exposures will reflect their respective weights in the benchmark. With its mix of passive and active management, the fund provides an efficient way to gain all-cap exposure to Australian equities.
To learn more about the Fund, and to read the Fund's Product Disclosure Statement, please visit the Fund information page.