Back to articles
Winton Global Alpha Fund: delivering new sources of return to traditional portfolios
New to mFund
Now available through mFund via mFund code: MPS01
Winton combine robust scientific and statistical research to identify patterns and interrelationships within global data, seeking to acquire insights that offer an investment edge. Capitalising on this approach, the Winton Global Alpha Fund (the Fund) has a history of delivering investors with strong returns, and valuable diversification benefits.
Low correlation to traditional asset classes, over the long term: potential for positive returns in rising and falling markets
The Fund has historically delivered performance with low long-term correlation to traditional asset classes, including equities and bonds.
Low correlation means that when equities or bonds perform poorly, the Fund can achieve positive, flat or negative returns. As such, including the Fund within a portfolio has the potential to reduce the volatility of (or 'smooth') the overall portfolio's return profile.
Diversified approach: actively traded portfolio of ~100 futures markets across various sectors
The Fund employs multiple strategies across ~100 liquid exchange-traded futures markets, providing long-term diversification benefits from traditional asset classes. Some of the futures markets the Fund invests in worldwide include: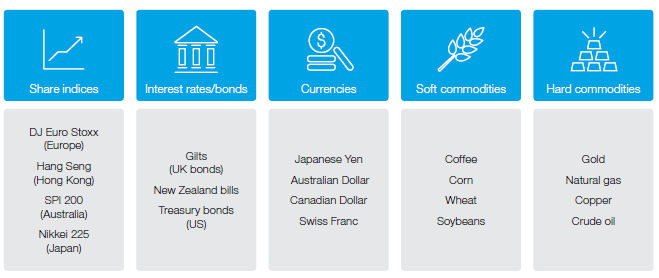 The Fund can take long and short positions in any of the markets it trades, and Winton dynamically allocates risk based upon its risk and return forecasts. These forecasts are built from a combination of trend and non-trend following signals.
Specialist investment strategy: access to Winton's scientific approach to investment
Winton view the investment universe as a large body of data. For over 20 years the firm has employed robust scientific and statistical research to identify patterns and interrelationships within this data, seeking to acquire insights that give them an investment edge.
The data includes large volumes of price records from thousands of markets, economic statistics of the world's major economies, accounts of the world's leading companies, production and consumption statistics, demographic data, weather records, and more.
Winton's focus on science is reflected in the composition of their investment team, employing staff from a variety of backgrounds – from particle physics and astronomy to virology and meteorology. While diverse, they are united by their proven ability to identify subtle patterns within large, noisy data.
For more information, visit our website or go to the Fund Information page.
Investment objective: the Fund aims to generate long-term total returns by investing in exchange-traded futures contracts and exchange-traded forward contracts providing exposure to underlying investments such as share indices, bonds, interest rates, currencies and commodities. The Fund holds both long and short positions in futures. The Fund may also hold cash and cash equivalents.
Macquarie Professional Series: enabling local access to global specialists
The Winton Global Alpha Fund is proudly brought to you by Macquarie Professional Series. We search the world to uncover differentiated investment solutions, enabling local investors to access strategies from world-class fund managers. Learn more.
This information has been prepared by Macquarie Investment Management Australia Limited (ABN 55 092 552 611 AFSL 238321) the issuer and responsible entity of the Fund referred to above. This is general information only and does not take account of investment objectives, financial situation or needs of any person. It should not be relied upon in determining whether to invest in the Fund. In deciding whether to acquire or continue to hold an investment in the Fund, an investor should consider the Fund's product disclosure statement. The product disclosure statement is available on our website at macquarie.com.au/pds or by contacting us on 1800 814 523. Other than Macquarie Bank Limited (MBL), none of the entities noted in this document are authorised deposit-taking institutions for the purposes of the Banking Act 1959 (Commonwealth of Australia). The obligations of these entities do not represent deposits or other liabilities of MBL. MBL does not guarantee or otherwise provide assurance in respect of the obligations of these entities, unless noted otherwise.
This document has been prepared by Macquarie and has not been independently verified by Winton. Winton makes no representation or warranty as to its accuracy or completeness and accepts no liability for any inaccuracy or omission.