Earn three times more than cash rate
This article appeared in the December 2014 ASX Investor Update email newsletter. To subscribe to this newsletter please register with the MyASX section or visit the About MyASX page for past editions and more details.
How to get higher income using interest rate securities in 2015.

By Matt Wilson, YieldReport
The official cash rate has been stuck at 2.5 per cent for more than a year and during that time investors have had to deal with banks squeezing the rates offered on term deposits. Secure returns have been hard to find. Or have they?
You might be surprised to learn that an investment in government bonds could have generated 7.8 per cent over the past 12 months; that's what the BT Government Bond Fund returned after fees. That is a pretty healthy return from a fixed-interest fund, particularly given shares only returned 4.61 per cent over the same period (measured by the S&P/ASX 200 Accumulation Index, which assumes dividend reinvestment).
Analysis by YieldReport showed other bond funds that performed well were PIMCO and Legg Mason, returning 6.7 per cent and 7.5 per cent respectively. The international bond funds of PIMCO and Legg Mason gave even better returns of 11 to 13 per cent after fees. Many of these funds can now be bought directly on ASX through its new mFund platform.
(Editor's note: To learn about interest rates securities, take the free ASX online Bonds and Hybrids course, and the Exchange-traded Australian Government Bonds course.)
The chart below shows the types of returns available in a range of fixed and floating rate investments.
Approximate fixed interest yield to maturity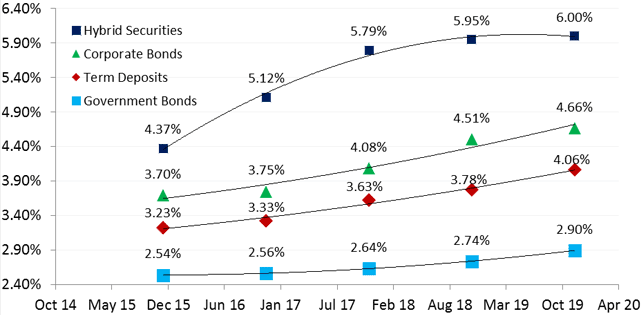 Source: YieldReport. Representative yields from 17 November 2014
Finding decent returns from fixed interest in 2015
Leaving money in cash is not an option. With the market pricing in no change to the cash rate before 2016 and inflation around 2.3 per cent, an investment in cash is barely going to beat inflation. Bank term deposits pay higher rates than cash, with rates ranging from 3.6 per cent for three months to 4.2 per cent for five years. Data from YieldReport shows that of the top 42 deposit-taking institutions, 34 pay better one-year term deposit rates than the big four banks.
So the first thing to do is shop around. Also keep in mind that unlike old term deposits that could be cashed in before maturity, new regulations being introduced will require investors to give 31 days notice before money can be withdrawn.
The second thing to do when investing in term deposits is to ask for a better rate. It sounds like a simple thing, but it works. Depending on how much you have to invest, you may be able to do significantly better than the blackboard rates on display at the bank or in the press.
Call the bank treasury department directly. Dealers are able to quote individual rates for different clients and you can often strike a better deal. An ASIC study in 2009 showed almost half of maturing term deposits were rolled over at a default lower rate, so always phone to renegotiate the rate you are getting and be prepared to switch banks.
Exchange-traded funds flexible with low fees
ETFs are listed on ASX and can be bought and sold just like shares. This makes them very flexible and gives quick access to your money. Some ETFs invest specifically in cash, term deposits or government bonds, and typically have low fees.
For example, the BetaShares Australian High Interest Cash ETF invests predominantly in a pool of term deposits. They get better than blackboard rates through their buying power and in the 12 months to the end of October returned 3.44 per cent after fees.
The iShares Government Inflation ETF returned 9.80 per cent in the same period by investing in inflation-linked government bonds. The SPDR S&P/ASX Aust Govt Bond ETF was the next best 12-month performer at 7.27 per cent.
Managed cash funds
These funds are not listed but it is very easy to invest in many of them through the new mFund service from ASX. There are "true" cash funds that invest only in cash deposits and short-term government securities, and the best performer among these in the 12 months to October was the IOOF Cash Management Trust, returning 2.83 per cent after fees.
An "enhanced" cash fund can invest in a broader range of instruments, including deposits, promissory notes and credit instruments such as floating-rate bonds. YieldReport performance tables show that in the 12 months to October, the best performing of these funds were MIF fund (4.95 per cent) and Perpetual High Grade Treasury (4.43 per cent).
Something similar but longer term is the Austock Life tax-paid term deposit fund. It invests in a portfolio of term deposits, but because this portfolio is internally taxed inside a life company investors can benefit from a considerably lower 30 per cent fund rate than, say, the top personal tax rate (49 per cent).
After 10 years, investors can access their investments on a tax-paid basis, completely free of any personal tax on their investment's growth. Because the funds have been growing under a lower tax rate it can be a good option for those paying a high tax rate who are prepared to lock away their money for 10 years or more.
Bonds
We have already mentioned bond funds, but those looking to invest directly in bonds can now use ASX-listed Exchange-traded Australian Government Bonds to buy government bonds through stockbrokers and online platforms. Bonds issued directly by companies will, it is hoped, be available through ASX in 2015, but in the meantime can be bought through a number of bond brokers, banks and some stockbrokers.
Bonds are considered much more secure than shares because, in the event of a default or wind-up, they rank far ahead of ordinary shareholders. During the GFC, share prices fell sharply but the fall in bonds was much more modest and their recovery a lot quicker.
A bond is simply an IOU where you invest money and the issuer of the bond agrees to pay you a regular interest coupon and your capital back when the bond matures. The interest rate can be fixed or floating - moving up and down in line with market rates. The exact terms are set when the bond is issued. You can invest for between one month and 24 years, and the longer the term, the higher the interest rate you usually receive.
The creditworthiness of the issuer also has a big bearing on the interest rate you receive, with a Commonwealth Government bond deemed the lowest possible credit risk; hence it pays the lowest interest rate. State government bonds pay slightly higher rates, and strong companies with a good credit rating, such as Telstra, will pay slightly higher rates again. Companies with a lesser credit rating will pay a higher interest rate still.
Bonds can be bought and sold at any time before they mature, making them very flexible. However, it should be noted that if interest rates rise and you want to sell the bond before maturity, you are likely to receive less than the face value. The opposite is true; falling rates increase the value of the bond. Holding the bond to maturity will result in the face value of the bond being returned.
Hybrids
These have become very popular as investors chase yield. ASX-listed hybrid securities are issued largely by banks and incorporate both debt and equity characteristics. However, they are more complex than a straight bond and have a range of different risks that need to be understood.
Nonetheless, they can be bought and sold on ASX and can deliver yields of 5 to 7 per cent. A word of warning: some hybrids lost up to 25 per cent of their value through the GFC and the terms of some mean they never have to be bought back by the issuer. Although many did recover quickly, some have still yet to recoup their losses. Seek independent advice if unsure.
About the author
Matt Wilson is the CEO of YieldReport, the only independent report in Australia analysing the interest rate markets. He started his career in the fixed-interest markets before working in derivatives for many years. YieldReport is available by subscription and readers of this ASX newsletter can register for a sample copy and receive a 25 per cent subscription discount by using the promo code ASX11 here.
From ASX
mFunds are unlisted managed funds you can invest in through ASX's mFund Settlement Service.
<!IoRedDot_txt_disclaimer>The views, opinions or recommendations of the author in this article are solely those of the author and do not in any way reflect the views, opinions, recommendations, of ASX Limited ABN 98 008 624 691 and its related bodies corporate ("ASX"). ASX makes no representation or warranty with respect to the accuracy, completeness or currency of the content. The content is for educational purposes only and does not constitute financial advice. Independent advice should be obtained from an Australian financial services licensee before making investment decisions. To the extent permitted by law, ASX excludes all liability for any loss or damage arising in any way including by way of negligence.

© Copyright 2017 ASX Limited ABN 98 008 624 691. All rights reserved 2017.