Does long-term share investing still work?
This article appeared in the August 2012 ASX Investor Update email newsletter. To subscribe to this newsletter please register with the MyASX section or visit the About MyASX page for past editions and more details.
Over the long term, history doesn't lie.
By Shane Oliver, AMP
After several years of poor performance, shares are good value, particularly against record low bond yields and low and falling cash rates.
Against this, the investment backdrop remains just as messy as it's been over the past few years. Europe is continuing to muddle along, with many people fretting it will blow apart; the US is going through a soft patch with concerns about a "fiscal cliff" later this year; and key emerging countries have also slowed.
Although the Australian economy is doing better than many, the sharemarket seems to be exposed to the parts of the economy that are not doing well. As disappointment piles on disappointment and the years roll by, it is no surprise investors are starting to give up and focus on preserving capital rather than seeking growth.
Given this, is the "stocks for the long term" approach still valid, and are long-term investors right to sit tight?
Return comparisons are stunning
It is well known that over very long periods of time, shares have provided superior returns to most alternatives such as cash or bonds. This can be seen in the following chart. Since 1900, Australian shares have returned nearly 12 per cent per annum compared to 6 per cent for bonds and 4.8 per cent for cash. 
Shares versus bonds & cash over very long-term - Australia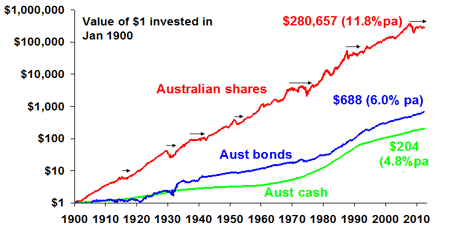 Arrows show long bear markets in shares. Source: Global Financial Data, AMP
Because of the power of compound interest, $1 invested in 1900 would have grown to $280,657 today if invested in shares, compared to $688 if invested in bonds, even though the return on shares was just less than double that of bonds. The story is the same for the US, although not quite as impressive. Since 1900, US shares have returned 9.5 per cent per annum, compared to 4.5 per cent for bonds and 3.6 per cent for cash.
Of course, investors don't have 110 years so it may be argued that the above chart is irrelevant. This is not so. The next three charts show the rolling annual returns over 10, 20 and 40 years ended at the dates shown in the horizontal axes. Over rolling 10-year periods, while shares have invariably done better, there have been periods in the 1930s and early 1940s, and since the 1970s, where returns from bonds and/or cash have done better. And shares have only done marginally better than bonds over the past decade. 
Australian investment returns over rolling 10-year periods - from 1900 to 2010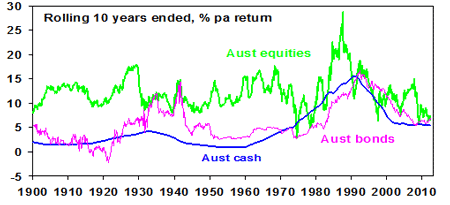 Source: Global Financial Data, AMP Capital
Pushing the horizon out to rolling 20-year returns has invariably seen shares do better than cash and bonds, although a surge in cash and bond returns from the 1970s and early 1980s has seen the gap narrow; and there have been some years where returns over the previous 20 years have been better from bonds than shares. However, this has been the exception. Over the past 20 years shares have returned 8.8 per cent per annum, compared with 7.6 per cent from bonds and 5.7 per cent from cash.
Australian investment returns over rolling 20-year periods - from 1900 to 2010

 
Source: Global Financial Data, AMP Capital
Over rolling 40-year periods - representative of the working years of a typical person - share returns have been remarkably stable in a range around 12 per cent. And while rolling returns from bonds and cash have picked up since the early 1980s, shares have always done better.
Australian investment returns over rolling 40-year periods - from 1900 to 2010

 
Source: Global Financial Data, AMP Capital
It can be seen that although shares do not outperform cash and bonds over all 10-year periods, they invariably have done so over 20-year periods and have always done so over 40-year periods. This is consistent with the basic proposition that the higher short-term volatility, and hence risk, from shares (reflecting the exposure to periods of falling profits and a real risk that companies go bust) is rewarded over the long term (defined as beyond 10 years) with higher returns.
Returns from cash and bonds since 1970s
There is no doubt that periods since around 1980 have seen a narrowing in the gap (or the risk premium) between share returns and bond and cash returns. However, it would be dangerous to conclude that this is a guide to the future.
Returns from cash were pushed up in the 1970s when cash rates and other short-term interest rates rose on the back of high inflation. Through the 1980s in Australia, short-term interest rates averaged 14.5 per cent and term deposits averaged around 12.5 per cent. In the early 1980s bond yields reached double-digit levels, reaching a record 16.4 per cent in 1982. This led to very high returns from both asset classes over periods encompassing such high yields.
Very high interest rates boosted cash and bond returns over the last 30 years.
They are now back to very low levels.

 
Source: Global Financial Data, Bloomberg, AMP Capital
The decline in bond yields from the early 1980s was driven by the adjustment from high inflation to low inflation, and more recently by worries about global deflation. It has generated huge capital growth and hence returns for bond investors.
However, the days of high returns from cash and government bonds are fading. If you buy an Australian 10-year bond today and hold it to maturity you will get 2.9 per cent per annum. The official cash rate is just 3.5 per cent and bank term deposits are averaging below 5 per cent.
What if the current period is different?
It is always possible that we have entered a new era of permanently poor returns from shares, but history cautions against such thinking. As the investor Sir John Templeton once observed: "The four most dangerous words in investing are 'this time its different'." Claims of new eras of permanently higher returns from shares were heard at the end of long-term bull markets in the late 1920s, late 1960s and late 1990s - only to look nonsensical a few years later.
Similarly, after a decade of poor returns, Business Week magazine concluded in 1979 that we had seen "the death of equities" and argued that after a decade of poor returns, investors had abandoned shares for good. Through the 1980s and 1990s shares enjoyed a strong bull market.
Although the current poor patch for shares may seem unusual, in a historical context it is not. In many ways it resembles the 1970s. Both periods suffered from the excesses of a long period of high returns and dysfunctional economic policies.
Cycles vary, but investor thinking is very much following the roller-coaster of emotion devised by Russell Investments many years ago to show how investor psychology evolves through investment cycles. During a bull market, "optimism" eventually gives way to "euphoria". When a bear market begins, investors initially see it as a short-term setback and remind themselves they are long-term investors. But as "anxiety" gives way to "fear", investors eventually become "despondent" and "capitulate" by selling their investments, thinking that maybe shares are not for them.
The roller-coaster of investor emotion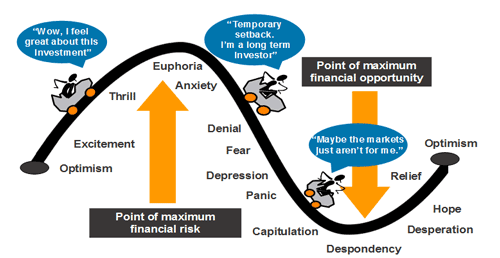 Source: Russell Investments, AMP Capital
The longer the down cycle, the greater the capitulation and despondency, and this is arguably what we are seeing now - much as we saw through the 1970s bear market in shares when it eventually led to calls of the "death of equities".
But as long as the capitalist system continues and economies eventually recover, then history tells us that shares will eventually bounce back and there is no reason to doubt that over long periods they will provide higher returns than cash and bonds. With grossed-up dividend yields on Australian shares above 6 per cent at a time when cash and term-deposit rates in Australia have fallen well below 5 per cent, and bond yields have fallen to record lows, shares only need modest capital growth to easily outperform.
What it means for investors
The key points are that the current period of poor returns for shares is not particularly unusual; investor sentiment (and cash flows) is doing what it normally does after an extended bear market in shares; and it is dangerous to conclude that shares will no longer provide a higher long-term return than cash and bonds.
So, putting aside the case for asset allocation in a more volatile world, for those who can take a long-term investment horizon it still makes sense to stick to agreed strategies involving a bias to shares, even though they have failed to deliver over the past few years.
About the author
Dr Shane Oliver is Head of Investment Strategy and Chief Economist, AMP Capital Investors.
From ASX
Tens of thousands of investors have downloaded the ASX iPhone application since its release in June 2011, making it one of Australia's most popular finance and investment Apps. You can preview and download the ASX iPhone App, via iTunes.
ASX launched the free App to help people access sharemarket data via their iPhone, extend the ASX website's reach, and provide another useful information service for investors, with real-time alerts delivered to investors - effectively providing a way of keeping the sharemarket in your pocket.
<!IoRedDot_txt_disclaimer>The views, opinions or recommendations of the author in this article are solely those of the author and do not in any way reflect the views, opinions, recommendations, of ASX Limited ABN 98 008 624 691 and its related bodies corporate ("ASX"). ASX makes no representation or warranty with respect to the accuracy, completeness or currency of the content. The content is for educational purposes only and does not constitute financial advice. Independent advice should be obtained from an Australian financial services licensee before making investment decisions. To the extent permitted by law, ASX excludes all liability for any loss or damage arising in any way including by way of negligence.

© Copyright 2018 ASX Limited ABN 98 008 624 691. All rights reserved 2018.