Is it time to buy iron ore shares?
This article appeared in the November 2014 ASX Investor Update email newsletter. To subscribe to this newsletter please register with the MyASX section or visit the About MyASX page for past editions and more details.
Learn what drives the price of Australia's largest export.

By David Lennox, Fat Prophets
The once sleepy iron ore sector is now a major talking point because the commodity dominates the Australian export scene, earning $75 billion in 2013-14.
Iron ore is Australia's biggest export revenue earner, contributing 27 per cent of the total $273 billion in 2013-14. Coal (thermal and metallurgical) contributed $40 billion in export revenue for the same year, putting it in a distant second place.
Over the past 10 years, iron ore's rise in prominence has everything to do with its use, being a critical ingredient in the manufacture of steel. Of the estimated 3 billion tonnes of iron ore mined annually across the world, 98 per cent is consumed by steel mills.
It has been this association with steel and the prolonged period of weak global economic growth, as the GFC plays its way through the economies of many countries, which has brought about iron ore's prominence.
In a bid to revitalise economic growth, many governments around the world have turned to infrastructure construction as the growth engine.
Estimated infrastructure spending 2013-2030
(based on projections of demand equalling 3.5% of global GDP, 2013-30)
Source: McKinsey Global Institute
The forecast infrastructure spending in the above chart totals US$57.2 trillion for an average annual spend of US$3.2 trillion. Other forecasts have infrastructure spending reaching US$9 trillion annually by 2025. Despite different forecasts, the amount of spending will be very large.
Robust activities in the infrastructure sector have significant direct positive multiplier effects on other parts of an economy, including employment and spending.
Infrastructure construction relies heavily on steel as a critical input. It accounted for an estimated 50 per cent of global steel demand in 2013, which totalled an estimated 1.6 billion tonnes. In the world's two largest individual economies, the United States and China, the demand for steel runs at 42 per cent and 55 per cent respectively for infrastructure activities.
Iron ore price tumbles
This rosy demand outlook has, however, not made the iron ore price immune from price cycles. Investors have watched the price continue to slide over the past nine months, recently reaching a five-year low.
Iron ore price chart
September 2004 to September 2014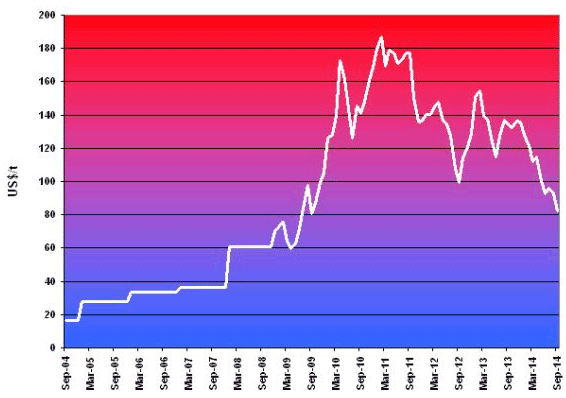 Source: Index Mundi
The weak pricing trend has been driven by the old-fashioned "demand and supply equation" becoming the main focus in the iron ore space. Concerns over slowing demand by a key iron-ore consuming country, China, has been placed against a growing supply scenario, culminating in weak price action.
Chinese demand is key for iron ore
On the demand side, China is a significant participant in the market, consuming nearly 70 per cent of the annual seaborne trade in the commodity to feed its steel industry. Seaborne trade in 2013 for iron ore totalled about 1.2 billion tonnes.
As a major participant, China's economic growth came under close scrutiny as its economic growth trended lower from its 2010 peak of 12 per cent annual growth. For the most recent quarter, September 2014, annual growth was only 7.3 per cent. This trend "alarmed" investors and turned the focus on the growth in China's steel industry.
However, statistics show that China's crude steel production has continued to grow at an annual pace of 6 per cent, to a record 801 million tonnes for the year to August 2014. In association with the growth in crude steel production, China's appetite for iron ore has also continued to grow.
China's crude steel production
January 2013 to August 2014
Source: Company data
China's imports of iron ore to September 2014 grew to a record 921 million tonnes, or 16 per cent annually. Like many countries it has been heavily investing in infrastructure, having a profound impact on steel production and the need for iron ore. Estimates for China's infrastructure spending for 2014 are $1.8 trillion, targeting urban facilities and its rail network.
Investors remain concerned over the continued momentum in growth for China's steel industry and the flow-on effect on iron ore demand. Forecasts for China's steel industry are for growth to moderate in the year ahead to about 3 per cent.
China's growth has certainly been slowing, but we see this stabilising at still high levels. The steel sector is likely to slow to around 4 per cent as infrastructure spending continues to be a priority in the year ahead. Our projected growth rate would see China's crude steel production rise to 835 million tonnes in the next 12 month. We expect China's steel production to continue to provide a sound platform for the country's iron ore demand.
It has been the robust rise in China's demand for iron ore that has generated what markets are describing as a "wave of new iron ore supply". It is this "pending wave" that has captured investor attention, and which is creating additional price uncertainty for iron ore.
Incremental capacity additions in iron ore seaborne market
2013 to 2016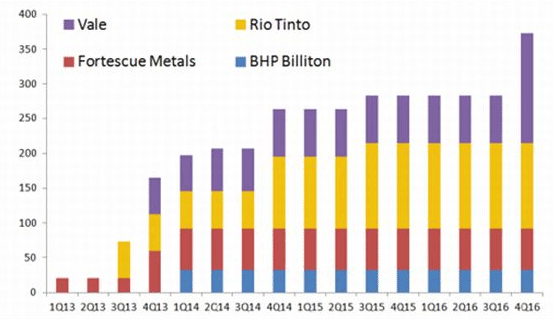 Source: JP Morgan/Jefferies
There is no doubt that new supply of iron ore is making its way into the market and will continue to do so in the years ahead. But we believe the trend in China's appetite for iron ore will continue to set a pace that will accommodate this new supply.
The current low price for iron ore will see China continue to rationalise its domestic iron ore industry, provided any other domestic disruptions caused by this action within the country are not major. This move would probably be premised on cost competiveness and certainly quality.
It is possible that demand growth for imported iron ore will only moderate in the next six months to around 10 per cent. A halving of the current growth rate would still require China to import an additional 73 million tonnes.
Although we are not expecting a substantial rally in the iron ore price in the months ahead, we do see prices continuing to recover as the year draws to an end. We expect the price to be in the range US$85 to US$90 per tonne, from current levels of US$80.
Importantly, we believe the price has tested its recent low, but volatility may persist as the current uncertainties linger in investors' minds.
In the current pricing environment for iron ore, it is important that producers have balance sheet strength and development options. A key attribute is being able to produce iron ore at the low end of the cost curve (to withstand lower iron ore prices).
Rio Tinto has these qualities with minimal balance sheet debt and major tier 1 assets, and is one of the lowest-cost producers of iron ore. BHP Billiton has the same qualities, but exposure to the sector is diluted by other commodities.
About the author
David Lennox is an analyst at Fat Prophets.
Follow Fat Prophets on Twitter @Fatprophets
From ASX
ASX Investment videos feature some of the market's best commentators and are a great way to stay in touch with market trends.
<!IoRedDot_txt_disclaimer>The views, opinions or recommendations of the author in this article are solely those of the author and do not in any way reflect the views, opinions, recommendations, of ASX Limited ABN 98 008 624 691 and its related bodies corporate ("ASX"). ASX makes no representation or warranty with respect to the accuracy, completeness or currency of the content. The content is for educational purposes only and does not constitute financial advice. Independent advice should be obtained from an Australian financial services licensee before making investment decisions. To the extent permitted by law, ASX excludes all liability for any loss or damage arising in any way including by way of negligence.

© Copyright 2017 ASX Limited ABN 98 008 624 691. All rights reserved 2017.